Want to find out more about our industry? Check out the links below to get information on your privacy rights, organizations that protect them and entities that focus on the operations of investigation.
Louisiana State Legislature Website
Louisiana Revised Statute 40:1203.1 et seq:
FCRA Documents:
Revised Summary of Your Rights
Notice to Users of Conusmer Reports
Notice to Furnishers of Information
Our Privacy Policy

Society for Human Resource Managers (SHRM):
SHRM is the world's largest association devoted to human resource management. Representing more than 200,000 individual members, the Society's mission is to serve the needs of HR professionals by providing the most essential and comprehensive resources available.
Consumer Financial Protection Bureau (CFPB):
The central mission of the Consumer Financial Protection Bureau (CFPB) is to make markets for consumer financial products and services work for Americans — whether they are applying for a mortgage, choosing among credit cards, or using any number of other consumer financial products.

Public Record Retriever Network (PRRN):
PRRN is the largest trade organization representing professionals in the public record industry. With more than 700 members in 50 states that retrieve documents from local government agencies in over 2,000 counties nationwide, PRRN Members are recognized as the nation's leaders in local public record searching and document retrieval.

American Society for Industrial Security (ASIS):
ASIS International, with more than 33,000 members, is the preeminent international organization for professionals responsible for security, including managers and directors of security.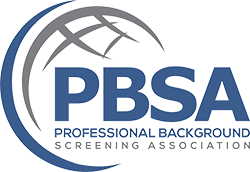 The Professional Background Screening Association (PBSA):
PBSA exists to promote ethical business practices, promote compliance with the Fair Credit Reporting Act and foster awareness of issues related to consumer protection and privacy rights within the background screening industry. The Association currently represents over 880 member companies engaged in employment and tenant background screening across the United States. Member companies range from Fortune 100 companies to small local businesses, conducting millions of employment related and tenant background checks each year as part of the hiring and leasing process. PBSA Member companies are defined as "consumer reporting agencies" pursuant to the Fair Credit Reporting Act (FCRA) and are regulated by both the FTC and CFPB.